Page 1
Page 2
---
---
Belts
Blades
Casters
Drive
Specifications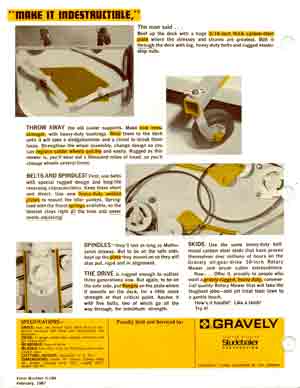 Beef up the deck with a huge 3/16-inch thick carbon- steel plate where the stresses and strains are greatest. Bolt it through the deck with big, heavy-duty bolts and rugged elastic stop nuts.

the old caster supports. Make new ones, stronger, with heavy-duty bushings. Weld them to the deck until it will take a sledgehammer and a chisel to break them loose. Strengthen the wheel assembly, change design so you can replace caster wheels quickly and easily. Rugged as this mower is, you'll wear out a thousand miles of tread, so you'll change wheels several times.

First, use belts with special rugged design and long-life reversing characteristics. Keep them short and direct. Use new heavy-duty welded plates to mount the idler pulleys. Spring-load with the finest springs available, so the tension stays right all the time and never needs adjusting!

—they'll last as long as Methuselah anyway. But to be on the safe side, beef up the plate they mount on so they will stay put, rigid and in alignment.

is rugged enough to outlast three generations now. But again, to be on the safe side, put flanges on the plate where it mounts on the deck, for a little more strength at that critical point. Anchor it with five bolts, two of which go all the way through, for maximum strength.

Use the same heavy-duty half-round carbon steel skids that have proven themselves over millions of hours on the Gravely all-gear-drive 30-inch Rotary Mower and brush cutter extraordinary.
Now... Offer it, proudly to people who want a grizzly- rugged, heavy-duty, commercial quality Rotary Mower that will take the toughest jobs—and yet treat their lawn to a gentle touch.
How's it handle? Like a lamb!
Try it!