Front cover
Page 1 and 2
Page 3 and 4
Page 5 and 6
Page 7 and 8
Page 9 and 10
Page 11 and 12
Page 13 and 14
Back cover
---
---
Tractor and rider
Tractor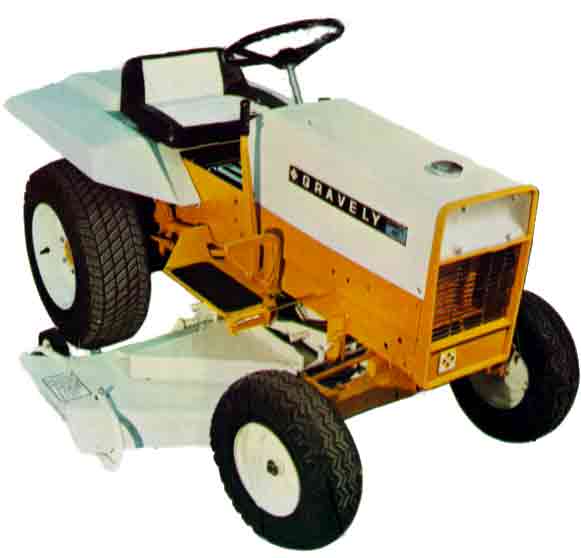 Rugged, easy-steering. Shortest turning radius, left and right.

Tractionized power: rear-engine design for maximum traction. All-Gear-Drive.

Instant Control Lever; Forward, Neutral, Reverse, Instantly, without clutching.

Control Cluster: speed range, high and low gear, PTO clutch levers: four forward, four reverse speeds.

Safety fender . . . no moving parts exposed. Raises for easy access to engine, transmission.

Instrument Cluster: Safety key-and-button start; throttle, choke levers; optional cigar lighter.

12-V Battery, easy access; Breakerless Ignition.

Five Gallon Fuel Tank

All-Gear-and-Shaft front implement drive.

Big, full flotation tires.

All-Gear-Drive for center-mounted implements.

Deep, strong welded steel frame.

Most attachments go on and off without tools.

Wide, safe, comfortable footrests.

Brakes
Optional integral floodlights-headlights.