Page 1
Page 2
Page 3
Page 4
Page 5
Page 6
Page 7
Page 8
---
---
Muffler
---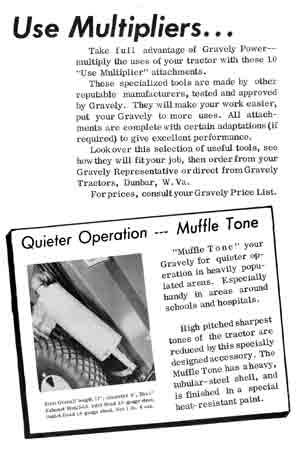 Take full advantage of Gravely Power--multiply the uses of your tractor with these 10 "Use Multiplier" attachments.

These specialized tools are made by other reputable manufacturers, tested and approved by Gravely. They will make your work easier, put your Gravely to more uses. All attachments are complete with certain adaptations (if required) to give excellent performance.

Look over this selection of useful tools, see how they will fit your job, then order from your Gravely Representative or direct from Gravely Tractors, Dunbar, W. Va.

For prices, consult your Gravely Price List.