Page 1
Page 2
Page 3
Page 4
Page 5
Page 6
Page 7
Page 8
---
---
Left Photo
Right Photo
Specifications
---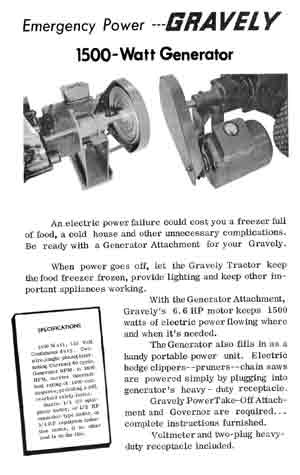 An electric power failure could cost you a freezer full of food, a cold house and other unnecessary complications. Be ready with a Generator Attachment for your Gravely.

When power goes oil, let the Gravely Tractor keep the food freezer frozen, provide lighting and keep other important appliances working.

With the Generator Attachment, Gravely's 6. 6 HP motor keeps 1500 watts of electric power flowing where and when it's needed.

The Generator also fills in as a handy portable power unit. Electric hedge clippers- -pruners--chain saws are powered simply by plugging into generator's heavy - duty receptacle.

Gravely PowerTake-Off Attachment and Governor are required...complete instructions furnished.

Voltmeter and two-plug heavy duty receptacle included.