Before the project started
Balluster Detail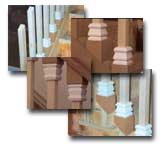 Brackets
Handrail
Newell post
The Big Picture
Wall Section
After The Paint
Nearly Finished
---
The ballusters are 1-1/2 inch square poplar. The decorative wraps at the top and the bottom of the ballusters are MDF baseboard. These wraps turned out to be quite a project. 50 ballusters, two ends each, four pieces of baseboard for each wrap, means 400 pieces of baseboard to cut and glue together!

Next to the baseboard wraps are wraps made of 3/4 inch MDF. The purpose of these wraps is to transition between the horizontal alignment of the baseboard wraps and the slope of the handrail.

The ballusters are connected to the stairs in two ways. First, an assembly of two ballusters separated by a block of 2X4 was built. Biscuit joints were used to attach the three pieces together. Also, the balluster next to the riser had another 2X4 block to position the whole assembly a fixed distance from the riser.

Large lag bolts were used to secure the assembly to the tread and riser.