Page 1
Page 2
Page 3
Page 4
---
---
Page 2 Large
---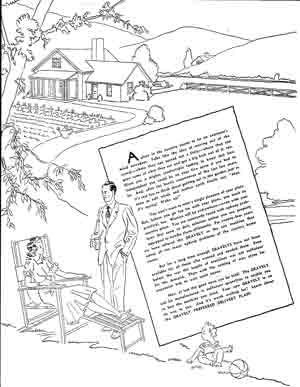 A place in the country seems to be on everyone's mind nowadays. Folks like the idea of moving out of the crowd— where they can spread out a little—where they can grow some of what they eat and get a big kick out of it, too. Gives you a mighty comfortable feeling to know just how independent you could be on your five acres if you had to be. And, after the hectic experiences of the last few years, it's real fun to think about getting out in the garden just as soon as soft winds and mellow earth finally say, "Man, it's spring! Wake up"

You won't want to miss a single pleasure of your place. But, before you go too far with your plans, you must be practical, too. Worries will be everywhere—even with your country place. You are constantly faced with upkeep problems that seem to defy solution unless you are properly equipped to handle them efficiently. For twenty-four years we have offered the GRAVELY as the one machine that solves all the major upkeep problems of the country home owner.

But for a long time enough GRAVELYS have not been available for all those who wanted and needed them. Even before the war the supply of machines was not sufficient for the demand. Then with the coming of war, plans for expansion had to wait until peace.

Now, at last the good news can be told! The GRAVELY will be manufactured in sufficient quantities to enable you to buy the machine you need. Your new GRAVELY is on its way to you. And it's worth waiting for! Learn about the GRAVELY PREFERRED DELIVERY PLAN!