Page 1
Page 2
Page 3
Page 4
---
---
Seal
---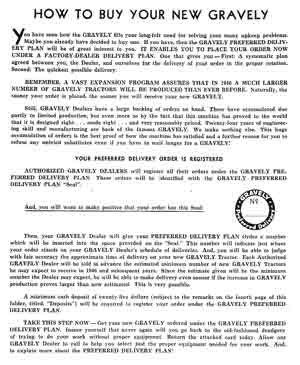 You have seen how the GRAVELY fills your long-felt need for solving your many upkeep problems. Maybe you already have decided to buy one, If you have, then the GRAVELY PREFERRED DELIVERY PLAN will be of great interest to you. IT ENABLES YOU TO PLACE YOUR ORDER NOW UNDER A FACTORY-DEALER DELIVERY PLAN. One that gives you — First: A systematic plan agreed between you, the Dealer, and ourselves for the delivery of your order in the proper rotation. Second: The quickest possible delivery.

REMEMBER, A VAST EXPANSION PROGRAM ASSURES THAT IN 1946 A MUCH LARGER NUMBER OF GRAVELY TRACTORS WILL BE PRODUCED THAN EVER BEFORE. Naturally, the sooner your order is placed, the sooner you will receive your new GRAVELY.

Still, GRAVELY Dealers have a large backlog of orders on hand. These have accumulated due partly to limited production, but even more so by the fact that this machine has proved to the world that it is designed right. . . made right . . . and very reasonably priced. Twenty-four years of engineering skill and manufacturing are back of the famous GRAVELY. We make nothing else. This huge accumulation of orders is the best proof of how the machine has satisfied and a further reason for you to. refuse any untried substitutes even if you have to wait longer for a GRAVELY!

YOUR PREFERRED DELIVERY ORDER IS REGISTERED

AUTHORIZED GRAVELY DEALERS will register all their orders under the GRAVELY PREFERRED DELIVERY PLAN. These orders will be identified with the GRAVELY PREFERRED

DELIVERY PLAN "Seal".

And, you will want to make positive that your order has this Seal:

Then, your GRAVELY Dealer will give your PREFERRED DELIVERY PLAN Order a number which will be inserted into the space provided on the "Seal." This number will indicate just where your order stands on your GRAVELY Dealer's schedule of deliveries. And, you will be able to judge with fair accuracy the approximate time of delivery on your new GRAVELY Tractor. Each Authorized GRAVELY Dealer will be told in advance the estimated minimum number of new GRAVELY Tractors he may expect to receive in 1946 and subsequent years. Since the estimate given will be the minimum number the Dealer may expect, he will be able to make delivery even sooner if the increase in GRAVELY production proves larger than now estimated. This is very possible.

A minimum cash deposit of twenty-five dollars (subject to the remarks on the fourth page of this folder, titled, "Deposits") will be required to register your order under the GRAVELY PREFERRED DELIVERY PLAN.

TAKE THIS STEP NOW Get your new GRAVELY ordered under the GRAVELY PREFERRED DELIVERY PLAN. Insure yourself that never again will you go back to the old-fashioned drudgery of trying to do your work without proper equipment. Return the attached card today. Allow our GRAVELY Dealer to call to help you select just the proper equipment needed for your work. And, to explain more about the PREFERRED DELIVERY PLAN!